Scripted drama can be a rich resource for language learning when approached creatively and comprehensively.



At the Institute for Language Education at Southern New Hampshire University, we use scripted drama to develop good speech habits. Generally, scripted drama is used before improvised drama in the curriculum in order to integrate pronunciation practice with an understanding of dramatic format and how to approach a role including analyzing character, scene, and play objectives. The International Phonetic Alphabet is introduced and segmentals practiced and plays are read to create awareness of how emphasis, stress, and intonation are used to develop meaning. (For a more complete explanation of our approach, please see the brief article below.) The plays are rehearsed to improve pronunciation and usually some good acting emerges as well. In rehearsing plays, students learn not only to pronounce with clarity, but also to learn to listen, as they must be alert for their cues and react within the context of the situation.



The two short sketches you will see below are from Doug Case and Ken Wilson's OFF-STAGE! Sketches from the English Teaching Theatre.






The ticket inspecor with passenger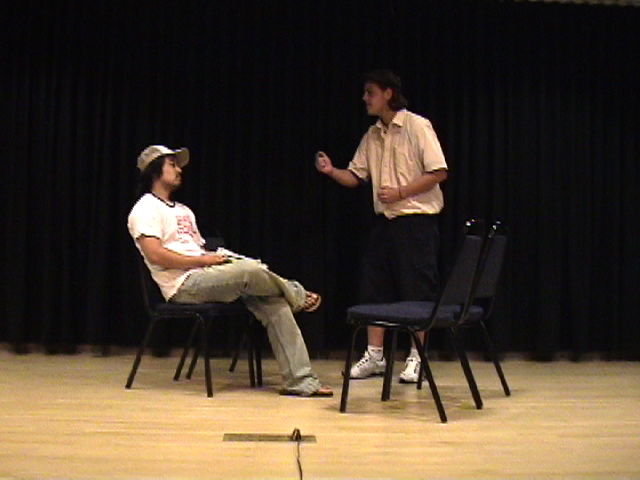 Who is Mr.Jones??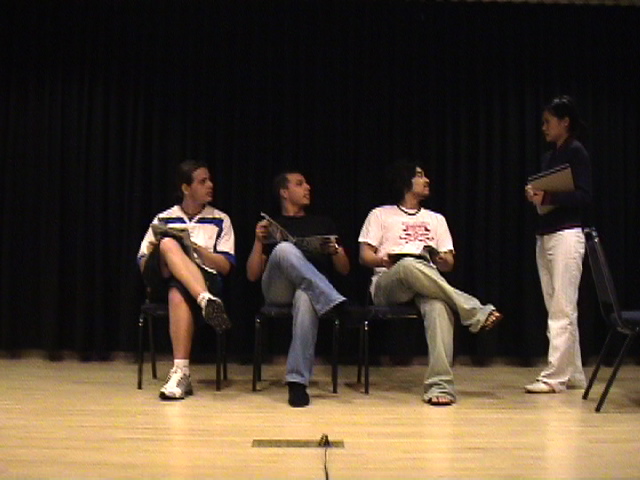 For a short article discussing the steps we use in the process of using plays for pronunciation practice, please go to the EVO_Drama_2006 site and, if you aren't a member, please join and then after being approved, take a look in the "Files" section for Using Plays for Pronunciation Purposes". If you are a member, just click here for the EVO_drama_2006 site.
READERS' THEATRE



Another popular format for develping good listening and speaking habits is Readers' Theatre. The presenters have the comfort of having their scripts at hand, so the lines don't have to be memorized, but the words must be pronounced carefully, clearly, and with appropiate tone and feeling. In other words, the focus is on the speaking voice and its expression to create the meaning of the work presented. Some movement may be desired to create more visual interest for the spectators as you will see in the presentaton of haiku and other short works in the video below.


Click here for READERS' THEATRE