The first element, or condition, that contributes to active language learning is the fact that the learning occurs in an environment freed of desks and traditional classroom set up. Instead, the classroom, such as it is, is an open space in which something has a potential to happen. There are no foregone associations or presumptions in the student mind as to what is to be expected or as what is to occur. Immediately, the tone is set for excitement, for anticipation of building an event. Into this opening, the teacher/director can establish the working modus operandi based upon his/her pedagogical objectives. It is almost as if the teacher has been given a carte blanch or tabula rasa to create the classroom feeling and atmosphere that s/he wishes.
The studio/open space environment also indicates that this is a place to explore, play, and create rather than to read a boring text, study grammar, or stay put behind a desk while a teacher expounds. It is freeing, not only to the students, but also to the teacher.
To support the "sandbox" effect, the "classroom" is full of interesting items to help fashion the creation of a play: lights, light board, sound equipment for sound effects and sound board to play them, musical instruments to create new compositions, space, to develop dance and movement supported by the live musicians, props, and materials for costumes to use and try on for improvisaions and rehearsals. The space indicates that this is a place where language will be used, not "studied."
THEY WORK ON A SCRIPT OR STUDY LINES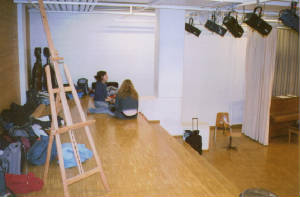 STUDENTS COME TO CLASS WITH INSTRUMENTS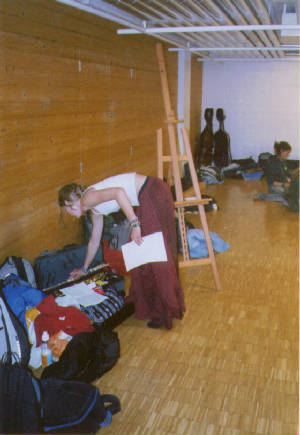 PROPS AND SCRIPTS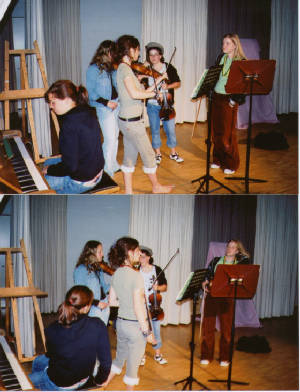 WARM UP THEIR MUSIC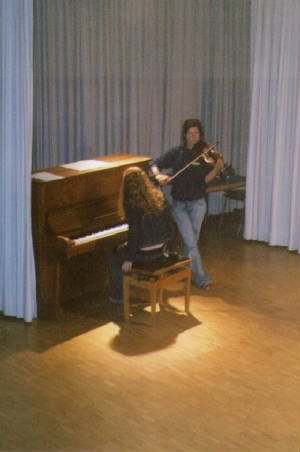 PRACTICE WITH SOUND